The pilot UK Innovation Accelerator (IA) Programme will see Glasgow's share of £100 million funding go towards 11 ambitious local projects.
The IA programme projects formally commenced in Spring 2023 following a project selection phase and due diligence checks.
Virtual museums can escape the physical and geographical constraints that curtail traditional museums, which usually limit exhibitions to less than 10% of the objects that are held in collections, and limit audience reach by cost, distance, and accessibilityGlasgow has a well-known, proud heritage in shipbuilding, heavy-fabrication and welding, but also in ultrasound. Fusing these transformative innovations together, this proposal seeks to manufacture a prosperous future for Glasgow, driven by its heritage, enabled by its innovations. Internationally, the energy transition and security concerns force a rapid step-change in the productive, fast and efficient manufacture of high-integrity, large-scale, structures for the energy, defence, and marine sectors, key pillars of Glasgow's heritage and future.
The Museums in the Metaverse project seeks to address these challenges with a two-sided platform, lowering costs and catalysing sustainable user growth:  one side of the proposed platform is for visitors who gain access to a rich array of museums, sites, objects, and novel and dynamic experiences; the other is for virtual curators, where experts and novices alike can build enriching and entertaining narratives using objects and venues that have never before been placed together in the real world.
This project aims to untap the potential of virtual museum experiences. This should extend the access to collections for those who cannot – for a wide variety of personal, political, and economic reasons – physically access collections that already exist, but it will also make possible exhibitions which cannot physically exist. The benefits for audiences is greater, more diverse, and more engaging access to cultural heritage. The benefits for collections and the cultural heritage sector are a vastly expanded, and diversified, audience for their collections, and through that a new and saleable revenue stream.
Partners are Edify, Historic Environment Scotland, National Museums Scotland, University of Glasgow.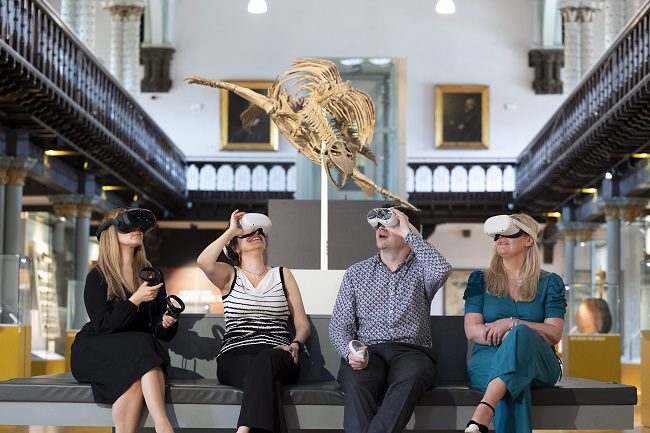 Fusing a future from Glasgow's Proud Heritage: Schedule Guaranteed High-Integrity Structures for a Secure, Safe and Resilient Transition to Net Zero
Traditionally, welding and inspection of high-integrity joints are separate, sequential, often manual processes in both manufacturing and repair. Ultimately, this reduces productivity, throughput, schedule certainty and increases rework if defects are only detected at completion, a challenge similarly found in modern additive manufacturing. Additionally, the energy required to re-heat then repair these structures significantly increases the commercial and environmental costs of manufacturing. Furthermore, a shrinking and ageing skilled workforce, along with a desire to reduce hazardous working, drives process automation. Automated in-process ultrasonic inspection during welding aims to deliver high-integrity structures right, first time, every time, overcoming current technical and process limitations. It offers significant reductions, estimated from current industrial data of: > 55% in weld process time; > 50% in overall weld cost; > 75% in man hours.
This proposal seeks to accelerate and propel these recent Glasgow born innovations to industry at scale, delivering significant commercial, technical and schedule certainty benefits to industry at pace, ensuring Glasgow and the UK lead on future fabrication productivity, efficiency, revenue and program repatriation. Three, mobile, large-scale, reconfigurable, automated welding and additive manufacturing test-beds, shaped by industry, housed by industry, and pursuing impact for industry, introduce, validate and embed in-process inspection on next-generation high-value structures for multiple Glasgow based industrial collaborators across sectors.  In parallel, an educational and STEM outreach offering will recruit and train the next-generation Industry 4.0 ready sensor-enabled automated welding engineers, addressing the significant current skills gap affecting these industries. Finally, a Glasgow based commercialisation vehicle will anchor the innovation in the region and enable translation of the technology internationally for societal and economic impact, whilst still ensuring Glasgow is at the centre and forefront of heavy-manufacturing innovation. This three-pronged approach along with the innovation's significant technical, commercial, environmental and safety opportunities, re-ignite the Clyde's proud manufacturing history, fuse its future and anchor it as the international  focal point in sustainable, productive, inclusive manufacturing. 

ReMake Glasgow: Creating the leading circular manufacturing hub
The ReMake Glasgow project led by the University of Strathclyde operated National Manufacturing Institute Scotland (NMIS) will create a pipeline of highly skilled green jobs and reduce waste and carbon emissions.
A first-of-its-kind national ReMake hub will be based within the Digital Factory at the new NMIS HQ opening later this year. It will support manufacturers to embrace the circular economy and extend the life of their products and systems through value retention approaches including remanufacturing refurbishing, repairing and direct reuse. This will be achieved by using disruptive technology, innovation support, and digital infrastructure that provides traceability of emissions and faster certification routes.
Currently only 1.9% of UK manufactured products incorporate any value retention process despite their vast environmental, economic, and social benefits. The project consortium includes global manufacturing giants Boeing, BA Maintenance Glasgow, SSE renewables, Baker Hughes Howden and ATS Global.

Data-driven design and manufacturing CoLAB (D3M_CoLAB)
The D3M_CoLAB project combines the industry-focused data and design teams at the National Manufacturing Institute Scotland (NMIS) Digital Factory with researchers and students in the University of Strathclyde's Industrial Informatics Cluster (IIC).
They will develop a hub to provide manufacturers with advanced data analytics capability to improve their design, decision making, and operational effectiveness, ultimately making them more productive and competitive. It will place Glasgow City Region at the forefront of smart manufacturing by delivering skills and graduate placement programmes, collaborative support from NMIS and ICC experts and innovative technology vendors.
The programme will allow companies to safely explore ideas to drive forward data-driven transformation within their businesses by enabling them to replicate their physical and digital infrastructure without impacting daily business operations. Project partners include Babcock, BAE systems, Infor and Anaconda.

Stratellite – Transforming space and photonics manufacturing
Led by the Lightweight Manufacturing Centre, part of the National Manufacturing Institute Scotland, which is operated by the University of Strathclyde, Stratellite will develop a flexible space and photonics manufacturing facility in conjunction with the Glasgow site of Thales UK.
The partnership will deliver a combined manufacturing engineering and testing facility, fully supported by a collaboration space that helps the workforce of today and tomorrow advance their skills in data-driven manufacturing. Companies in the space and photonics sectors will be further assisted by the development of a business and technical support programme.
The project will promote the growth of the Regional supply chain in these areas, and fund researchers' time to engage and develop capability projects to ensure Glasgow City Region and Scotland's suppliers are leading the way in advanced, cost-effective manufacturing.

Industrially led quantum computing accelerator
Quantum computing is considered a strategic technology by world leading economies. It offers a new approach to information processing with significant societal and economic gains projected. It will provide a route to solve classically hard problems encountered across a diverse range of sectors, including financial services (e.g. portfolio optimisation), energy (e.g. network design and energy distribution), logistics (e.g. route planning), and IT (e.g. search, machine learning). Industrial end users are forecast to gain substantially through cost savings and revenue opportunities.
Whilst global technological progress is advancing the timeline is uncertain with long lead times and high risk. Unlocking commercial investment and economic opportunity requires the identification and demonstration of end user problems where quantum computation offers advantage. This requires a unique combination of hardware fit for commercial demonstration and an ability to define and translate end use cases.
M Squared and the University of Strathclyde formed a strategic partnership to target the commercialisation of industrially relevant neutral atom quantum computing based on a jointly developed hardware and software platform. Neutral atom quantum computing has emerged as scalable and flexible approach with potential to address valuable commercial problems in the short- to medium-term. The aim of the project is to benchmark the commercial quantum computing system and test industrially relevant end user problems thus accelerating steps towards an industrially relevant quantum computing system. An end goal is to establish an industrial quantum demonstrator platform in Glasgow that is competitive with leading international systems. Glasgow has the key ingredients to be a global leader in quantum computing due to its world class Universities; RTOs; skills; and global supply chain companies. The economic potential from this project includes new commercial activity, workforce and skills development, and inward investment.  M Squared has found itself at the forefront of global commercial quantum technologies by drawing together a combination of investment, skills and ambition, and taking a lead in establishing a quantum sector from Glasgow. This project will cement Glasgow City Region's global leadership in quantum computing, whilst addressing gaps currently unfunded to accelerate desired economic impacts and outcomes.

Next Generation Remote-Sensing Technologies
The Next Generation Remote-Sensing Technologies project aims to explore the viability of new technologies in uncooled infra-red detectors, novel edge processed high-definition imagers and the latest laser sensing techniques. These early-stage technologies hold the potential of being developed, matured and integrated into a new generation of world class remote sensing equipment.
Future products derived from these technologies could become significant disruptors, allowing world class systems to be produced to meet emerging capability requirements identified for military, medical diagnostic, energy monitoring, net-zero, security and surveillance applications. They are estimated to be worth an anticipated £40m in the UK market and £120m from exports over a decade.

The Critical Technologies Accelerator
Ultimately, it will act as a model for the University's proposed National Institute of Quantum Integration (NiQi). NiQi would act as a front door for global industry to engage with UK quantum expertise and position Glasgow as a world leader in quantum technology, serving as a beacon for further inward investment into the region.
The funding creates a Centre with a management and engineering structure designed for long term sustainability. The management team will identify additional projects past the IA delivery phase that attract other funding, ensuring the long term future of the Centre as an important Scottish asset.

Modular Chemical Robot Farms for Chemistry
Chemify, a new University of Glasgow spin out with more than 25 employees, is developing the automated technology of chemputation: universal chemical synthesis controlled by computers. Chemify plans to expand to more than 100 people as it begins research and development to build a prototype of a scalable pilot plant capable of becoming a chemical 'giga factory' for the on demand discovery and manufacture of trillions of chemicals on demand for use in pharmaceuticals, high value chemical manufacturing, new materials, farming, and green energy solutions.
The outputs from the project will be a pilot-scale factory incorporating the latest in automation for small scale chemical manufacture and controlled by Chemify's state-of-the-art software for creating and executing digital chemical processes. Digitisation of chemical processes is underway and will continue throughout the project, alongside the development of the accompanying automation hardware. Finally the challenges of bringing these revolutionary technologies together in an operating environment will be addressed. This will provide us with the demonstration necessary to roll-out factories in Glasgow, the UK and internationally.
Risk Stratification Tool for Colorectal Polyp Surveillance
Bowel screening is used to find bowel cancer and pre-cancerous lesions called polyps in patients without symptoms. The aim of screening is both to catch bowel cancers early and to prevent cancers by removing pre-cancerous polyps.
This project is part of the INCISE collaboration, which aims to develop a tool which will more accurately predict a patient's risk of developing a future polyp, and therefore the need for a colonoscopy, using the latest advances in artificial intelligence, sequencing, and pathology.
This new tool will reduce the number of people needing repeated colonoscopy, reducing unpleasant experiences and complications, improving access to colonoscopy by reducing costs to the NHS, while maintaining a safe follow up regime for patients.

The Centre of Innovation for Financial Regulation
The FinTech Scotland initiative includes the creation of a new collaborative centre of excellence, focused on innovation in financial regulation. The work will explore new technologies to accelerate regulatory efficiencies, revolutionise risk management and shape future financial regulatory developments.
This partnership bid between the universities of Strathclyde and Glasgow and FinTech Scotland will establish a Centre for Financial Regulation with the aim of promoting economic growth, job creation, productivity gains, and innovation capability in the FinTech and Financial Services sector. The Adam Smith Business School will contribute to Actionable Research, and Skills and Education, drawing on this to design and implement research-informed professional education.
Researchers will investigate and evaluate how companies and regulators can better plan, implement and scale innovation in regulation and compliance for FinTech and Financial Services sectors as focused on Glasgow City Region. The research is part of an overall programme that addresses Innovate UK's innovation accelerator challenge to city regions. Combined with associated training in skills and education, this research will address productivity and employment gains as the FinTech and Financial Services sector or ecosystem embeds itself in the City Region.