The past month has seen some further milestones for Glasgow City Region.
We welcomed confirmation in the March Budget of Glasgow's share of £100 million UK Government Levelling Up funding for 11 ambitious projects to accelerate the Region's booming innovation economy and address local economic challenges.
One of only three UK pilot Innovation Accelerators, with Manchester and West Midlands, Glasgow City Region's local partnership of private, public and academic leads, will stimulate new jobs, grow the number of successful businesses and leverage extensive private sector investment on the back of the public funding – turbo charging our innovation economy to the next level.
Further details of our projects will be revealed when the programme formally kicks off in May, and once standard due diligence checks have been completed.
The new Sighthill bridge over the M8 motorway is now open, a key component of the regeneration of Sighthill in Glasgow – one of the largest projects of its type outside of London.
City Deal investment has re-connected an area equivalent in size to 60 football pitches to the near-by city centre. Extensive remediation has addressed historic land contamination, a result of the area's industrial heritage, enabling the construction of thousands of new homes and landscaping to create a new city park. Local flood management issues have also been addressed with the completion of Europe's first ever Smart Canal scheme close to Sighthill, unlocking a further extensive area in the north of the city for regeneration and new housing.
A new project is also now underway to accelerate the development of Clyde Metro. The UK Infrastructure Bank (UKIB) is working with Glasgow City Council to support the development of financial and commercial plans for the mass transit project which was recently confirmed by the Scottish Government as a key priority for future transport investment. Clyde Metro, which represents a multi-billion-pound investment over a 30-year period, could better connect more than 1.5 million people across the Region to employment, education, and health services.
UKIB has provided commercial insights around the investment case for Clyde Metro and ran a series of workshops with Regional stakeholders and representatives from the public and private finance sector to explore funding options for mass transit. The pilot project also marks the beginning of a wider strategic relationship with UKIB, who will review our broader net zero investment work and seek to identify further areas for future collaboration or possible lending.
In February over in East Renfrewshire, ministers from the UK and Scottish governments attended the official opening of Greenlaw Business Centre in Newton Mearns. Funded through £5 million City Deal investment, the 20,000 sq. ft building includes office suites, meeting rooms, breakout areas and a business lounge. Occupied by 26 businesses from a diverse range of sectors, Greenlaw is delivering on its goal to stimulate economic growth, create new jobs and an environment for local SMEs to thrive.
Progress continues on the Region's Economic Strategy (RES), with a scoping exercise completed for the Future Skills Programme looking at workforce issues and skills shortages and gaps being faced by the public sector. This is one of the twelve priority projects being moved forward as part of the RES Action Plan. Further work will now take place to build on this, bringing together staff from our member councils, Skills Development Scotland and further and higher education establishments to explore issues identified in more detail and consider how we can work together to address key challenges.
We also submitted the Region's first quarterly report on UK Shared Prosperity Fund (SPF) setting our progress and spend across the different priorities. The only Region in Scotland taking forward SPF at a Regional level, we recently hosted a productive session with colleagues from the UK Government and our eight member councils to share experiences and showcase progress in projects underway.
We continue to showcase how our City Deal is changing the Region's physical, social and economic landscape. Videos released this month to mark Scottish Apprenticeship Week highlighted some of the 300 young people benefitting from employment opportunities through community benefits in City Deal contracts, with 87 apprenticeship positions and 209 new entrant positions committed to by contractors so far.
Details of the formal scoring of the recent Green Freeport bids were shared last month by government with the participating partners. While, of course, our bid was not successful on this occasion, it did score very well so we should all be proud of our efforts.
Our latest Intelligence Hub briefing provides a spotlight on the Spring Budget and on the various additional local investment deals for English Regions.
Glasgow City Region has a proven track record in delivering on government funding. And we have the greatest need for investment.
Comparator UK city regions and our fellow pilot Innovation Accelerators, Manchester and West Midlands, have just been granted further extensive funding and powers in Trailblazer Devolution deals, announced in the Budget.
Glasgow City Region cannot be left behind. We need to be granted the same powers and funding to make the decisions that match the height of our ambitions, and to address key local issues and challenges, particularly around poverty and inequality.
Discussions with the UK and Scottish Government must be accelerated to explore a wider package of investment and economic decision-making powers for the Region.
---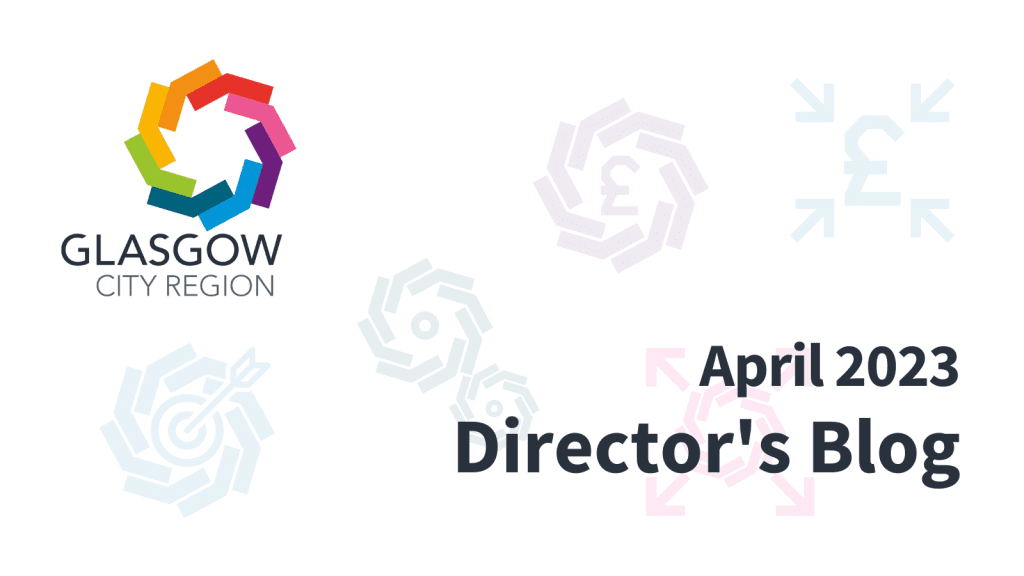 April 17, 2023