A new Renfrewshire road bridge inspired by Scotland's aviation pioneers has officially opened, providing a critical connection for businesses across the White Cart river.
The 70-metre Barnwell Street bridge takes its name from the Barnwell Brothers and has been built by Renfrewshire Council to link business centres either side of the river.
It forms part of a series of infrastructure improvements jointly funded by the Scottish and UK Governments through the £1.13billion Glasgow City Region City Deal which has enabled development of the Advanced Manufacturing Innovation District Scotland (AMIDS).
Located between Arran Avenue in Paisley and Wright Street in Renfrew, the crossing enables vehicles coming from Paisley to access commercial premises on the Renfrew side and gives Renfrew companies a new connection into AMIDS, Glasgow Airport and the motorway network.
There's no through road for vehicles onto Wright Street to prevent it being used as a shortcut and over time helping to reduce HGVs and commercial traffic in nearby residential areas.
It also includes a public walking and cycling crossing which joins up with the growing network of cycling and walking routes across Renfrewshire.
Renfrewshire Council Leader Iain Nicolson joined businesses benefiting from the bridge and Glasgow Airport employee Alan Carson, whose daily commute is now by bike thanks to the new route, to mark its official opening.
Councillor Nicolson said: "I'm delighted to see the Barnwell Street bridge now open. We're already seeing the benefits of this investment, with new developments choosing to locate next to the bridge, bringing new jobs and opportunities to Renfrewshire.
"Right across Renfrewshire we are making a major investment in infrastructure like roads, bridges, walking and cycling routes, better connecting communities to their work, studies and leisure. This investment is anticipated to bolster the economy by more than half a billion pounds by attracting new developments to locate in Renfrewshire.
"Local residents will also enjoy the benefits of the Barnwell Street bridge, making it much easier and quicker to choose to leave their car behind and walk, cycle or wheel across to AMIDS, Glasgow Airport and further afield.
"It's fitting it's named after the brothers who built the first successful powered aircraft made in Scotland as AMIDS is fast emerging as Scotland's home of manufacturing innovation, where cutting edge research and technology is being applied to manufacture in a better way, in a cleaner, greener way."
Glasgow City Region City Deal funding for the project has also seen a pedestrian and cycle bridge over the Black Cart river onto Greenock Road open last year.
And a new road, called Netherton Avenue, has replaced Abbotsinch Road to provide a bespoke route through the innovation district.
The district has already attracted the National Manufacturing Institute Scotland (NMIS) and the Medicines Manufacturing Innovation Centre to locate here, as well as aerospace giants Boeing who are partnering with NMIS on their first research and development project in Scotland.
Scottish Government Business Minister Ivan McKee said: "The opening of Barnwell Street Bridge marks a significant milestone for the Glasgow City Region Deal and for the local community. This is a vital project which will link commercial centres including the Advanced Manufacturing Innovation District Scotland (AMIDS) and offers greater pedestrian and cyclist access. The Scottish Government is an equal partner in the Glasgow City Region Deal, committing £500million over 20 years."
UK Government Minister for Scotland Iain Stewart said: "Renfrewshire is channelling the pioneering achievements of the Barnwell brothers with its ambitious infrastructure programme. In the spirit of its namesakes, the new bridge will help the local economy to take off by connecting companies across the White Cart and supporting residents to cycle and walk to work. The UK Government is investing in exciting projects like the Barnwell Street bridge as part of £2 billion for levelling up communities right across Scotland."
Glasgow City Region City Deal funding is also supporting construction of the first opening road bridge across the River Clyde at Renfrew, helping to create an attractive waterfront area and projected to inject as much as £230million into the economy and create more than 2000 permanent and temporary jobs.
Business Feedback
Iain McKissock, Director at freight forwarders and custom brokers AirSea Scotland said:
"With around 70 percent of our exports and import business being handled through Glasgow Airport, the new bridge on Barnwell Street gives us easier access to the airport and will help us to cut down on our emissions.
"The opening of the bridge and the area being part of the manufacturing innovation district goes a long way to help future growth and will hopefully attract more businesses to the area and in turn this means more exports and imports requiring processing, which we, as probably the largest independent forwarding agent in Scotland, are in a prime position to assist."
Rob Large, Director of Canmoor, Asset Manager of Westway Park said:
"The Glasgow City Region City Deal has been instrumental in creating connections and improving the infrastructure around Westway and the new Barnwell Street bridge is another positive milestone in this process.
"As well as improving access to Glasgow Airport for our occupiers, it will help reduce the impact of heavy vehicle traffic from residential areas around Porterfield Road and central Renfrew, as well as connecting with the Paisley to Renfrew cycle route.
"We are continually investing in the future of Westway and our plans include creating a new park entrance close to the new bridge. We have completed a £12million redevelopment and improvement programme, which has included the refurbishment and upgrading of around 200,000 square foot of industrial space and we have also developed and secured a pre-let for the new 120,000 square foot Filshill Distribution Centre."
John McKail, Managing Director of Bullet Express, said:
"In addition to increasing our storage capacity, one of the main drivers for us choosing Westway was its access to Glasgow Airport. This bridge significantly enhances that accessibility, bringing us even closer to our customers and to the air and road links that enable us to get their products where they need to be. With storage capacity for 12,000 pallets in our 67,000 square feet storage facility at Westway, Bullet Express is now even better placed to meet the needs of our customers."
John McCluskey, Bidfood Head of Operations (Hubs) Scotland, said:
"We looked at a number of sites in the west to be closer to our customer base, reducing road miles, avoiding congestion on the M8 and Kingston bridge when returning back to our Edinburgh depot, to grow our business locally and provide further employment opportunities.
"This site is ideal with the close links to the motorway and airport nearby. The bridge will help us avoid congestion coming into Renfrew and will keep traffic away from the residential area which will help maintain road safety for the residents and will provide fast and easy access onto the motorway network. Having a good road network, transport links and public transport will be key to ensuring that we are able to ensure our colleagues are able to access the area, getting to and from work."
Cyclist Feedback
Alan Carson, an ASU Operative at Glasgow Airport, is enjoying cycling to work now the bridge has opened. He said:
"This new bridge is an absolute game changer for the people in my area, not just for work, but for walks also. I live very close to Wright Street and the bridge. Before the bridge was built, I would use my car, cycle or walk to work. Now the bridge is open, I will walk or bike which changes my journey time from 45 minutes down to 15 minutes or as little as five by bike, cutting my travel time massively.
"The bridge is going to be great for leisure purposes for everyone who lives on the Renfrew side as now we can join cycling or walking routes to both Inchinnan, Paisley and beyond, keeping us away from busy roads."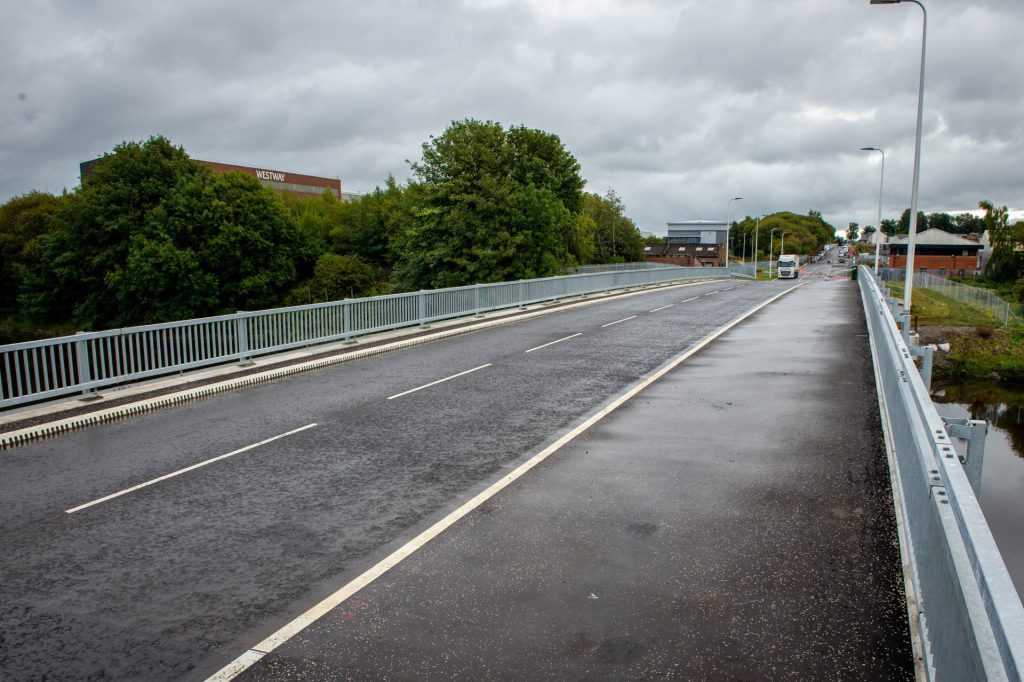 August 30, 2022