Completion of the first opening road bridge at the River Clyde is a stage closer following construction of an environmentally-friendly water channel.
More than 60 people worked on the new open-air culvert which replaces an old outfall moved to make way for the new bridge.
The majority of the 170-metre channel is cut out of the ground and took eight months to complete, providing a more natural water course for the flow from the Kilpatrick Hills into the Clyde.
It has been built by civil engineering specialists GRAHAM as part of the Clyde Waterfront and Renfrew Riverside project.
Renfrewshire Council is leading delivery of this Glasgow City Region City Deal funded project which is improving transport connections at the waterfront with up to 1400 jobs and an estimated £230million in investment anticipated to follow.
Improvements include a 184-metre cable-stayed twin-leaf bridge at Renfrew into Clydebank and Yoker for vehicles, pedestrians and cyclists and opening for passing ships.
There's also a new road from the bridge into the manufacturing innovation district AMIDS and enhanced walking and cycling along the full route.
Communities on both sides of the Clyde are already benefiting, with jobs and training opportunities on site during construction and a £3.5million supply chain boost to business so far.
Jim Armour, GRAHAM Contracts Manager, said: "Design and construction of the new culvert was a fantastic team effort and we worked closely with ecologists to ensure the completed channel supports sustainability and local wildlife.
"Moving the culvert allows us to prepare the area where the bridge will go on the north side of the river and over the coming months, we are continuing to build the cofferdams which gives us a dry working area to construct the bridge piers.
"The open-air culvert is just one example of our commitment to sustainability during construction. We have a wide range of carbon reducing activities on site, including electric site cars, a zero emission electric telehandler, re-using crushed brick in the new roads and soil stabilisation rather than importing aggregate."
Renfrewshire Council Leader Iain Nicolson said: "It's great to see this project achieve an important construction milestone. The new transport connections will improve the look and feel along the waterfront, connecting communities to their work, health, education and leisure facilities and attracting new jobs and developments to the riverside.
"The new water channel is just one of a series of environmental enhancements resulting from these works alongside better town centre air quality and improved access to public paths and cycle routes, while protecting popular green spaces."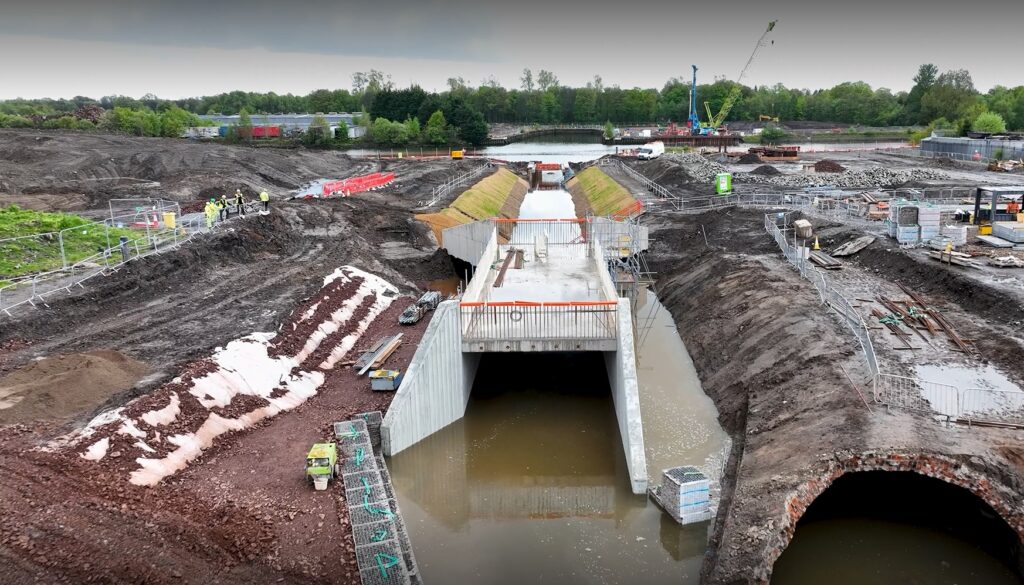 August 22, 2023