Exciting plans to create a new Civic Space in Bishopbriggs are taking centre stage thanks to an online exhibition.
The new focal point is part of the Bishopbriggs Town Centre Regeneration project – a key element of the Council's £34.88 million Place and Growth Programme, supported by the UK and Scottish Governments through the Glasgow City Region City Deal.
You can find out more via an online exhibition – www.eastdunbarton.gov.uk/Briggs-exhibition-2023 – which will be available until 5pm on 30 June 2023.
In addition, there will be an in-person information event in BetterBriggs Community Garden – at the Triangle Shopping Centre, near St Matthew's Church, where the Civic Space will be created – on Saturday 17 June from 11am-3pm.
Members of the design team will be on hand to discuss plans and answer any questions.
Plans for the Civic Space include:
A flexible and adaptable space which can accommodate a wide range of uses – e.g. events, markets, fairs and pop-up business space;
Increased greenery with areas of informal play;
The development of an artwork feature, seating walls and resting areas;
A performance area with seating and a canopy feature;
New lighting, making the area feel safer and more welcoming at all times of the day;
A revamped footpath adjacent to Kirkintilloch Road;
A new pedestrian crossing for easy access to Morrisons new store.
It is all being created by the council as part of the Bishopbriggs Public Realm Plan, which builds on various consultation and engagement exercises, as well as the Bishopbriggs Town Centre Strategy.
Feedback from residents, groups and stakeholders has helped to shape a detailed design proposal for this first phase of works.
Councillor Gordan Low, Leader of East Dunbartonshire Council, said, "I'm pleased to see the Bishopbriggs Town Centre Regeneration project taking such a significant step forward, following consultation with local residents and groups. Thanks to everyone involved.
"The new Civic Space will create a flexible, appealing place for people of all ages to spend time, enjoy events, catch up and relax. I hope as many people as possible view the online exhibition or go along to the in-person event on 17 June. You can also collect a printed copy of the proposals from Bishopbriggs Library and Community Hub."
Final refinements will be made to the design over the coming weeks, in conjunction with key stakeholders, to ensure accessibility and inclusivity. It is envisaged the Civic Space will be delivered by the end of 2026.
Work on other phases of the town centre regeneration project is ongoing. Look out for news later in the year.
The Scottish Government is investing £500 million into the Glasgow City Region City Deal, as well as £20 million to create a medical research and commercialisation facility.
The UK Government is providing £524 million in Glasgow City Region Deal investment, as well as £165,000 towards the Bishopbriggs improvements through the UK Shared Prosperity Fund.
The Scottish Government's Cabinet Secretary for Wellbeing Economy, Fair Work and Energy – Neil Gray – said, "I welcome this progress towards creating a new Civic Space for Bishopbriggs.
"The Scottish Government is supporting regeneration and helping to revitalise public spaces through the Glasgow City Region City Deal."
UK Government Minister for Scotland Malcolm Offord said, "These are exciting plans to transform and improve Bishopbriggs town centre, with feedback from the local community playing an important role in shaping the designs.
"This will help to regenerate the area, restore civic pride, and attract new businesses and further investment.
"The UK Government is investing £2.3 billion in levelling up right across Scotland."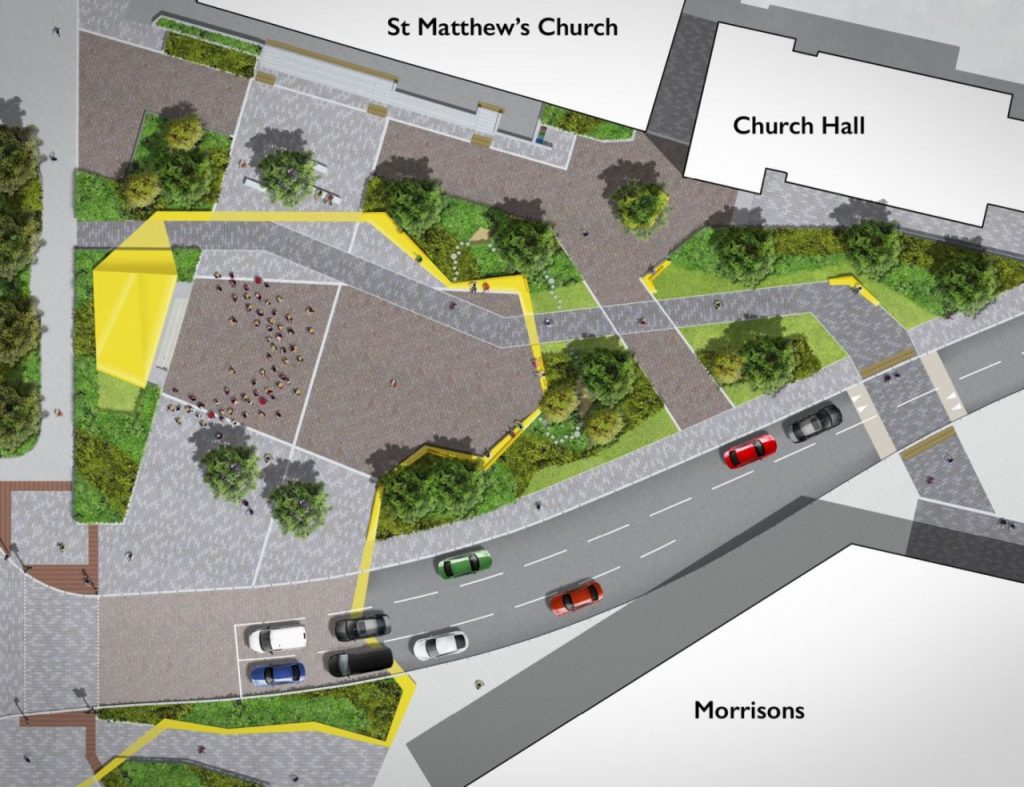 June 12, 2023