An ambitious new £5.6 million project to develop Virtual Reality museums was officially unveiled today (Thursday 12 October 2023).
The Museums in the Metaverse project – funded by the UK Government's Innovation Accelerator programme, led by Innovate UK on behalf of UK Research and Innovation – builds on Scotland's reputation for cultural regeneration and innovation by creating a ground-breaking Extended Reality (XR)* Culture and Heritage platform.
One side of the platform is for visitors to gain access to a rich array of museums, sites, objects, and novel and dynamic experiences. The other is for virtual curators to build enriching and entertaining storytelling using objects and virtual environments that have never been placed together in the real world.
The project will harness the University of Glasgow's global reputation for research in digital cultural heritage and XR, together with key cultural heritage and immersive technology partners, to develop an innovative solution to constraints that can limit physical museum exhibitions to less than 10% of the objects held in collections, and limit audience reach by cost, distance, and accessibility.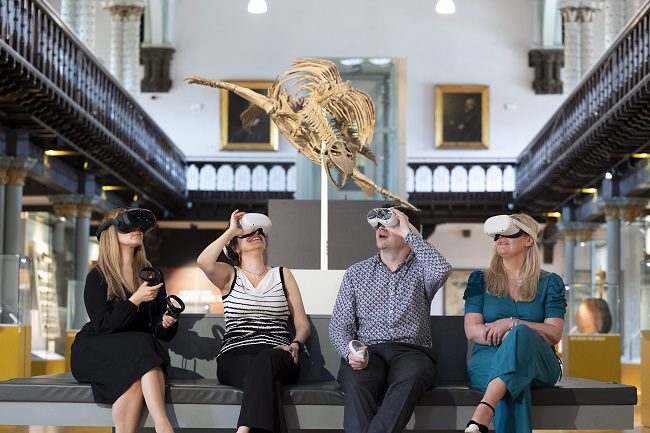 Professor Neil McDonnell, based at the University's Advanced Research Centre (ARC), said: "Virtual Reality Museums offer transformative extensions to the traditional museum experience: they can host collections of any size, show distant objects side-by-side, and be accessed from anywhere in the world.
"It is estimated that over 90% of objects in collections can't be seen as they are in storage.  Museums in the Metaverse can help liberate these collections and will allow museums the freedom to connect with their audiences in new and exciting ways."
The University of Glasgow, together with leading immersive learning platform Edify, Historic Environment Scotland and National Museums Scotland, hopes to unleash the potential of traditional museums to allow visitors to experience collections in a new and exciting virtual world.
George Freeman MP, Minister of State at the UK Department for Science, Innovation and Technology, said: "Museums not only inspire people of all ages and backgrounds and broaden access to learning and culture by making fascinating insights and artefacts available to anyone in the world, they are also huge engines of multi-disciplinary research.
"This £5.6 million investment through our Innovation Accelerator program is helping the University of Glasgow to build on its reputation for extended reality research, while in turn boosting opportunities for learners and curators and promoting UK innovation and culture around the world."
Dr David Mitchell, Director of Cultural Assets at Historic Environment Scotland (HES) said, "Historic Environment Scotland are passionate about extending access to our heritage to new audiences and engaging in new ways.
"This funding supports our work to realise the benefits of digital technology to enhance understanding and engagement. This is an exciting project and partnership for us and we look forward to enjoying the benefits of this collaboration"
Chanté St Clair Inglis, Head of Collections Services at National Museums Scotland, said: "We're delighted to be part of the Museums in the Metaverse project. We at National Museums Scotland are committed to widening access to our collections both physically and digitally. This particular project offers exciting possibilities for wide engagement with our collections, with XR offering rich opportunities both for new kinds of public engagement as well as potential collaborative research work with others in our sector both in Scotland and internationally."
Martin McDonnell, CEO and Co-Founder of Edify, said: "We're thrilled to be involved in Museums in the Metaverse, which will deliver on the huge promise of XR for museums and heritage organisations, and build on the reach, capability, and specialist focus of our existing technology.
"The implications of the project for the sector are transformational: Incredible access to hidden archives and collections for professionals and researchers; extraordinary digital tourism experiences of previously impossible reach and scale; learning and teaching featuring uniquely contextualised material; and treasure troves of rich new digital artefacts for content creators. We're very much looking forward to working on this hugely exciting project, and with such amazing partners."
To-date, creating museum experiences in the metaverse has proven challenging due to high costs associated with 3D content creation of objects and environments. The project's highly skilled research staff will develop, streamline and publish workflows using cutting edge photogrammetry equipment to boost the capacity for and affordability of heritage content creation in Scotland and beyond.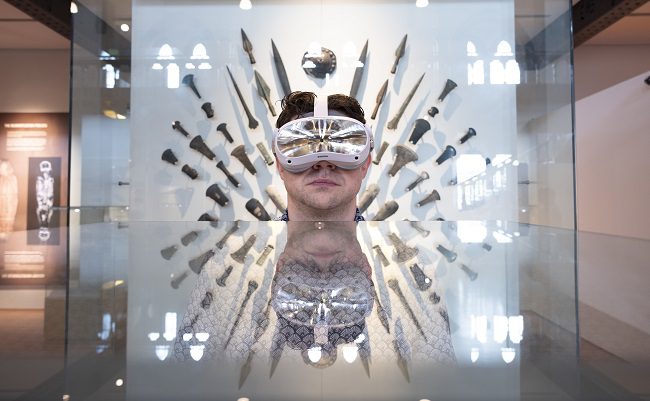 October 12, 2023