Glasgow City Region is continuing to make significant progress in delivering the £1.13 billion City Deal programme.
Today, the Glasgow City Region cabinet considered the Region's latest performance report, highlighting progress in work underway to transform the Regional economy.  
Susan Aitken, Leader of Glasgow City Council and Chair of the Glasgow City Region Cabinet, said: "The past year has witnessed a number of major milestones and successes for the partnership's wider economic plans and regeneration ambitions.
"We continued to make good progress across our City Deal programme despite operating in challenging conditions, and we look forward to another successful year, working closely with government partners on shared priorities and funding for projects of mutual local, Regional and national benefit."
In the last year, more than 10 additional sub-projects have been completed and £70 million in additional infrastructure spend has been approved.
Since its conception in 2014, 38 high-level City Deal projects have now been completed, more than £500 million in infrastructure spend has been approved, 5,500 people have been supported back into work, and £18.7 million in funding has gone to support innovation and business growth across the Region.
The period since March 2021 also saw the launch of the Clyde Climate Forest, the creation of the Region's first Climate Adaptation Strategy, the publication of a £30 billion Greenprint for Investment Prospectus, and the launch of the Region's latest Economic Strategy.
Progress in the last year also included developments on several exciting opportunities for the Region's future.
Glasgow City Region has been selected as one of three areas across the UK to share £100 million in funding for a new innovation and research accelerator, part of the UK Government's Levelling Up plans.
The Region will also benefit from an injection of £73.9 million in funding from the UK Government Shared Prosperity Fund, and we will continue to drive forward the implementation of the City Deal programme with an action plan which will complement our latest Regional Economic Strategy to launch in the next few months.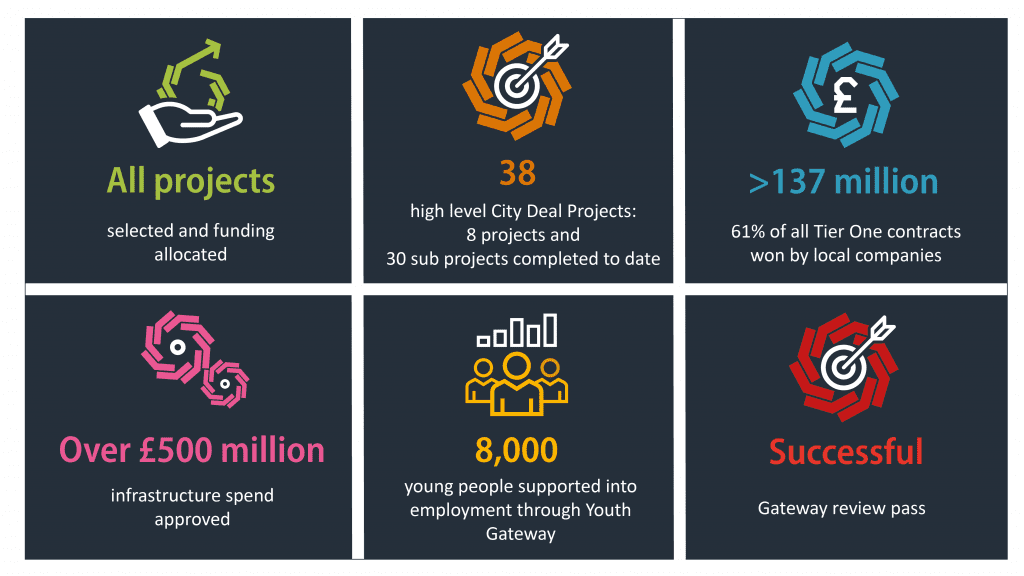 June 16, 2022