One of Scotland's main cruise ports is set to experience its busiest year since records began.
Greenock Ocean Terminal has 91 cruise liners booked into the Inverclyde town's new dedicated pontoon across 2023 – a rise of over 25 per cent on last year.
As many as 150,000 passengers and 38,000 crew members are expected to pass through the port over the course of this year.
It's more good news for the terminal in its second full season since Covid effectively closed down the cruise industry.
Jim McSporran, Clydeport Port Director at Peel Ports said: "We're extremely proud to be announcing a record cruise year for Greenock Ocean Terminal.
"Welcoming cruise liners to Greenock is a hugely important aspect of our port offering and we're delighted that we continue to attract and grow cruise numbers to the region.
"This increase in tourism will benefit visitor attractions and businesses across Inverclyde and central Scotland, and we look forward to welcoming these visitors across the season.
"In an effort to showcase the port as the cruise gateway to the West Coast of Scotland, this year we are also investing in a promotional campaign to feature at the global cruise industry's key annual gathering in the U.S."
Councillor Stephen McCabe, leader of Inverclyde Council, said: "The cruise sector here in Inverclyde continues to go from strength to strength and I'm delighted that this year is set to be the busiest yet with record numbers of ships and passengers, as well as a substantial number of crew visiting these shores.
"It's timely that with 2023 shaping up to be a bumper year for cruise calls that the finishing touches are being put on our new state-of-the-art Greenock cruise ship visitor centre which will provide our guests from around the world with a first class welcome to Inverclyde and the west coast of Scotland.
"While we can all look forward to seeing some of the largest and most luxurious ships grace these shores over the coming months, with upwards of 200,000 people expected on board those vessels there are also economic opportunities there for local businesses as visitors look to discover Inverclyde and the many great things we have to offer."
Clydeport welcomed 71 vessels to the terminal last year as it returned to almost pre-pandemic levels, with the world's largest residential ship – The World – one of those to stop off at the port last year.
Amongst the ships making a maiden visit to the terminal this year is the recently built ultra-luxury MSC Virtuosa, which is 331 metres long and can carry over 6000 passengers. The vessel will be one of the biggest to dock at the terminal throughout the busy cruising season, which will come to a close in November.
It comes ahead of the completion of a new £19.2 million cruise ship visitor centre later this year at the terminal.
The project, led by Inverclyde Council, is part of the £1 billion Glasgow City Region City Deal funded by the Scottish and UK governments.
Inverclyde Council has estimated the development will provide a £26 million boost to the Scottish economy.
The dedicated visitor centre will feature a museum paying tribute to the renowned late artist George Wyllie, a restaurant and roof terrace with stunning views of the River Clyde as well as a purpose-built arrivals and departure hall.
Located on the Firth of Clyde, the west-facing freight port has been at the heart of Scotland's shipping industry since 1876, with its container terminal officially opening in 1969.
One of Scotland's main cruise ports is set to experience its busiest year since records began.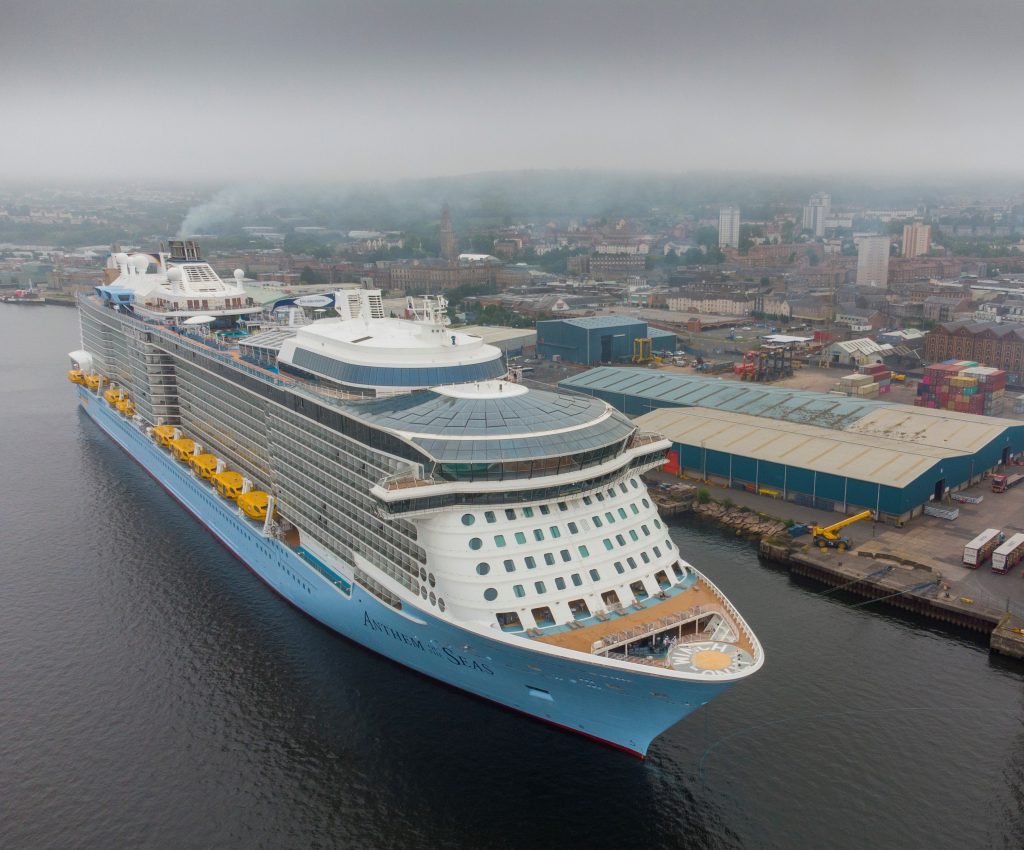 March 15, 2023