Over the past year, Glasgow City Council has worked with Dealroom.co to build the most comprehensive database of its rapidly growing technology ecosystem.
The Glasgow Tech Ecosystem Platform is an open-access database offering to better connect start-ups with investors and corporates, providing real-time insights on the health of the regional innovation economy and showcasing Glasgow City Region's wider tech ecosystem to the world.
The single platform is specifically designed to support scaling tech communities, with reliable intelligence, overarching trends and headline figures as well as detailed data on start-ups, scale-ups, and corporates across the city region. The data covers 740+ technology-based start-ups as well as investors and accelerators, universities, co-working spaces, tech meetups and much more.
The new database provides a detailed picture of the evolving tech ecosystem in all its facets and will be refreshed through collaboration with the many stakeholders across the city region. Any start-up, investor, or ecosystem stakeholder can add their company and organisation details and enhance their profile – ensuring both open access to real-time data for the community and opening up windows of market opportunity. Better tech and investment industry data will support improved local ecosystem connectivity and help promote the Glasgow Metropolitan Area internationally as a promising emerging hub for tech and innovation.
The comprehensive mapping of the pipeline of tech-enabled SMEs allows the tech ecosystem to be more effectively benchmarked and promoted. This robust market square of activity and community fabric was highlighted as an essential ingredient to strengthen resilience and scale and grow SMEs in the Scottish Technology Ecosystem Review (STER).
Glasgow City Council has developed and supported a number of other complementary key initiatives to address these national priorities. These included bringing Digital DNA Glasgow, the city's first major tech conference, to the Scottish Events Campus in September and the recent launch of two Tech Smart support grants to support both collaborative space rental and community events for tech meet-ups.
More information is available at: https://glasgow.dealroom.co/intro.
Councillor Susan Aitken, Leader of Glasgow City Council, said: "Glasgow has a growing and vibrant tech ecosystem. It's important that government only intervene in a way that's helpful and will allow the sector to continue to grow. By funding the Glasgow Tech Ecosystem Platform, we will provide the glue that will bring together start-ups, investors and existing players to allow the sector in Glasgow to reach a critical mass."
£2.6billion is the current combined enterprise value of all start-ups & scale-up companies located within the Glasgow City Region (source: Dealroom).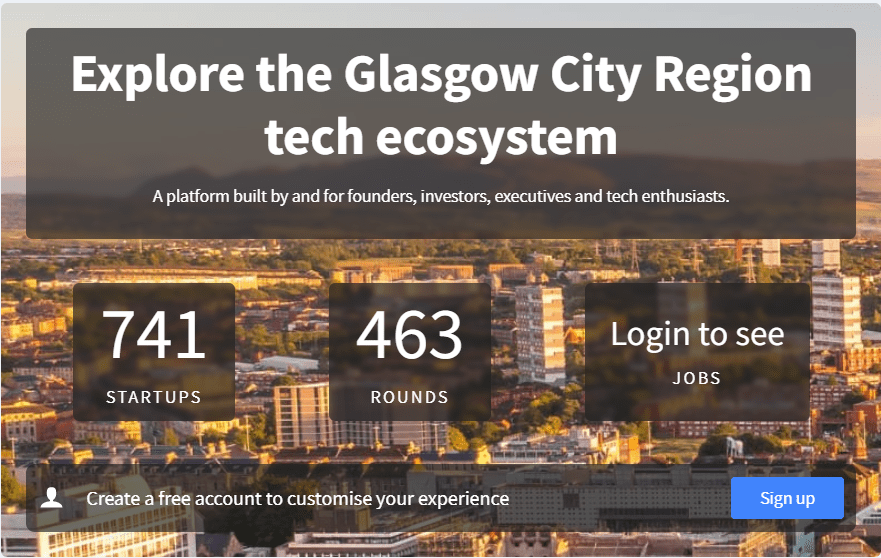 November 18, 2022