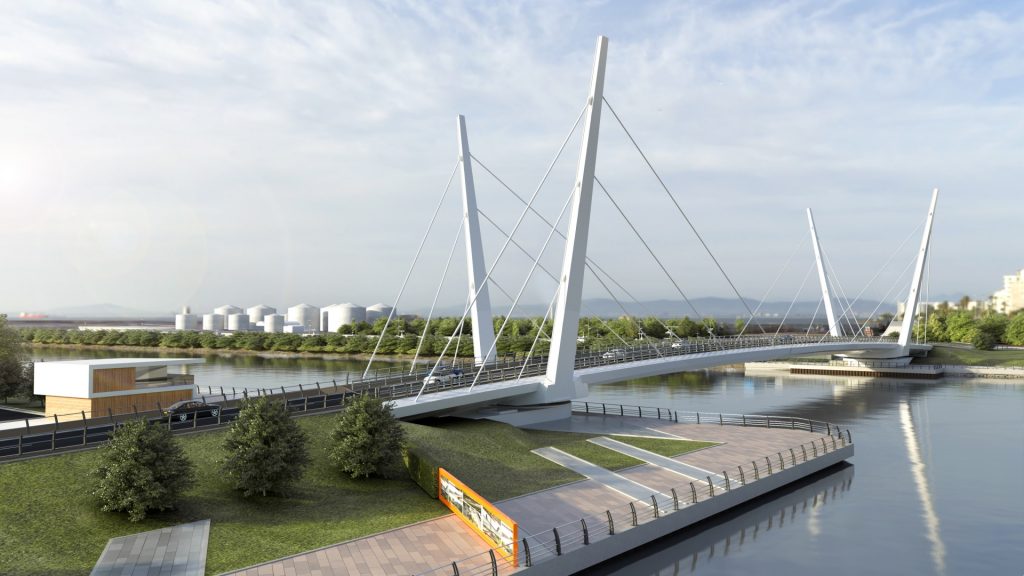 Civil engineering specialist GRAHAM has unveiled the many sub-contract opportunities for local suppliers to help deliver the first opening road bridge over the River Clyde and transform the waterfront. GRAHAM secured the construction contract for the Clyde Waterfront and Renfrew Riverside project which is being delivered by Renfrewshire Council, jointly funded by the UK and Scottish Governments through the £1.13billion Glasgow City Region City Deal.
Construction comprises a twin-leaf swing bridge for vehicles, cyclists and pedestrians, riverside walking and cycling routes and a new road connecting from the bridge into the Advanced Manufacturing Innovation District Scotland (AMIDS) being developed next to Glasgow Airport. Preparatory work on site starts this summer and all sub-contract and supplier work over £10,000 to complete the project will be publicly advertised.
Now, the GRAHAM procurement team has set out the different services and supplies they will be looking for over the coming months. Fencing, scaffolding, temporary electrics and site accommodation, as well as cleaning and catering services will enable the site to get up and running. There will also be contracts for a range of equipment as work gets underway, including pumps, barges and generators and orders for aggregate, concrete and piling to complete construction of the new bridge connecting Renfrew with Clydebank and Yoker.
Renfrewshire Council Leader Iain Nicolson said: "The new infrastructure will connect communities to amenities on both sides of the Clyde and help to transform the waterfront, the improved access appealing to developers over the coming years. It's an exciting project and represents an excellent boost as we look to create jobs and opportunities for work to recover from the economic impact of Covid-19. I would urge local suppliers and companies to contact the construction company and register their interest in becoming a supplier."
Economic estimates found around 700 jobs will be supported during the three-year construction period. As part of the £79.5million contract, GRAHAM, who have a waterfront office in Renfrewshire at Braehead, have also committed to deliver more than 100 community benefits including jobs, apprenticeships, qualifications and community volunteering activities. This includes career talks and promotion of careers in engineering to school pupils and college students as well as jobs targeted at people currently unemployed, working in partnership with employability teams in Renfrewshire and neighbouring Glasgow City Region areas.
Finance and Economy Secretary Kate Forbes said:"It's great to see another positive development in the delivery of this project, with details of the many supply chain contracts available to local businesses being published. I would strongly encourage local firms that think they could benefit from these great opportunities to apply. The Scottish Government is contributing £500 million over 20 years to the Glasgow City Region City Deal. The investment in this project through the Deal will contribute to the region's economic recovery by creating jobs, and providing the commercial infrastructure to support and attract businesses to Glasgow and the surrounding areas. It also encourages active travel supporting walking and cycling infrastructure in the area."
UK Government Minister for Scotland Iain Stewart said:"I encourage businesses to get involved with the supply chain opportunities for this ambitious project. The transformation of the waterfront will create jobs and attract further investment to the area, making it an even better place to work and live. The UK Government is investing more than £1.5 billion into City Region and Growth Deals across Scotland, helping communities to build back better from the pandemic."
Anyone interested in supplying services or securing a contract should register with Public Contracts Scotland where the different tenders will be advertised and email civils.supplychaineoi@graham.co.uk expressing an interest to work with GRAHAM.
Jim Armour, GRAHAM Contracts Manager, said: "We are delighted to be delivering the Clyde Waterfront project and bringing some fantastic supply chain opportunities to the Renfrewshire area. The scale of this scheme means the range of roles and materials, plant and equipment required are vast and we urge local organisations to register their interest as soon as possible to be part of this transformational engineering project for Scotland. On all of the projects that we deliver across the UK and Ireland, we continually look for ways to add value and deliver benefits for the communities that our work brings us into contact with. Our aim on this project is to make a positive economic impact through employment, training and work experience opportunities for local people and organisations. Living and buying locally during the works, alongside supporting community initiatives, also plays an important part in maximising the social value that we can bring."
The news comes as the Glasgow City Region recently launched its latest contract pipeline, detailing more than £150million worth of contracts going to open tender in the coming years.
June 18, 2021