A City Deal project led by Glasgow City Council that is helping to transform an area of North Glasgow into a vibrant neighbourhood by improving its connectivity with the city centre and adjacent communities has recently delivered public realm improvements and enhanced active travel routes.
An upgraded pedestrian route linking the city centre with Speirs Wharf and a people-friendly redesign of North Canal Bank Street forms part of the Glasgow City Deal, Canal and North Gateway project that aims to regenerate and reconnect the area with residential communities at Sighthill, Dundashill and Cowlairs and a reinforced cultural hub at Speirs Locks, complemented by a commercial core at Port Dundas.
The improvements have been delivered through close partnership working, with Scottish Canals as co-designers and Sustrans Scotland as co-funders.
Connecting Garscube Road at Cowcaddens with the canal towpath at Speirs Wharf and Port Dundas – the newly renovated 'Landscape Link' active travel route offers a much-improved and more viable environment for walking, wheeling, and cycling. New seating installed also provides a pleasant place to stop and rest which increases the attractiveness and general amenity of the area.
Adjacent to Speirs Wharf, North Canal Bank Street at Port Dundas is a strategically significant transport route which runs adjacent to the M8 motorway, extending eastwards towards Sighthill. The road layout has undergone a comprehensive redesign that now provides safer, segregated walking and cycling space that encourages active travel for everyday journeys. The canal edge has also been transformed, with new surfaces, the installation of attractive new seating and urban tree planting to green this much improved public space.
Next to North Canal Bank Street, work is also ongoing to create Sighthill Link – a Scottish Canals led initiative in conjunction with Glasgow City Council and Sustrans Scotland which will transform the existing towpath and surrounding environment, reconnecting Pinkston Basin with a new neighbourhood at Sighthill.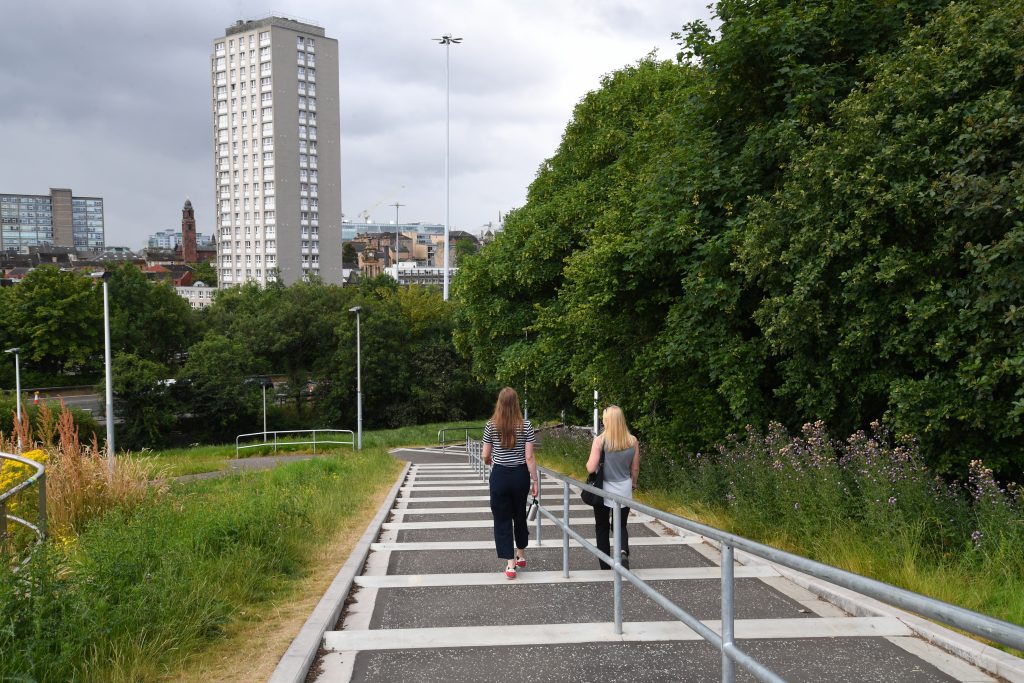 Councillor Susan Aitken, Chair of Glasgow City Region Cabinet and Leader of Glasgow City Council said: "Alongside our partners we are helping to promote sustainable economic growth in this part of the city through the regeneration of the Canal and North Gateway area as a vibrant new neighbourhood focused around the Canal Quarter.
"The delivery of much improved public realm and active travel routes around the canal-side itself and the creation of strategic walking, wheeling and cycling routes that directly link to the city centre, significantly increase the attractiveness of the area, help knit together its emerging new neighbourhoods and improve its overall connectivity."
Catherine Topley, CEO of Scottish Canals said: "Scotland's canal network has undergone a renaissance in recent years, with miles of extensive towpaths, beautiful scenery and benefits to people's health, more and more people are forsaking their cars and using our canals and towpaths for leisure and travel purposes. It's important that these blue and green active travel spaces are welcoming and safe for walkers, wheelers and cyclists to enjoy, and these improvements in North Glasgow are a great example of how improving and extending the active travel infrastructure, to connect communities and places, can encourage more people to take that step and leave the car at home."
Michael Melton, Grant Manager – Places for Everyone at Sustrans Scotland: said: "We are excited to see the improvements to the Landscape Link, and the completion of North Canal Bank Street active travel route as part of the Glasgow City Deal project, supported by funding from our Places for Everyone programme. These upgrades will make it easier for everyone living and working in this area of Glasgow to safely walk, wheel and cycle, as well as connecting local communities to the canal and city centre. We hope that this will enable more people to choose active travel as part of their everyday journeys."
UK Government Minister for Scotland, Malcolm Offord said: "The creation of these eco-friendly, picturesque and pedestrian-friendly travel routes into the city centre will bring job opportunities to residents, both new and old, as well as further investment to the area. The UK Government is spending more than £2billion levelling up communities across Scotland, including investing £523m in the Glasgow City Region Deal."
These public realm improvements follow on from previous work to help create a vibrant new neighbourhood at Port Dundas on the former Diageo distillery site. Funded by Glasgow City Deal and Scottish Canals, the award-winning enabling works to ready the site for housebuilding included road building, drainage infrastructure and utilities installation as well as high quality public realm linking the site to the surrounding areas. Development of an entirely new neighbourhood of 600 high-quality homes, including the city's first custom design housing offer is now underway led by Scottish Canals, Bigg Regeneration and Igloo. Both the UK and Scottish Governments are providing the Glasgow City Region local authorities with £500million each in grant funding for the Glasgow City Region City Deal.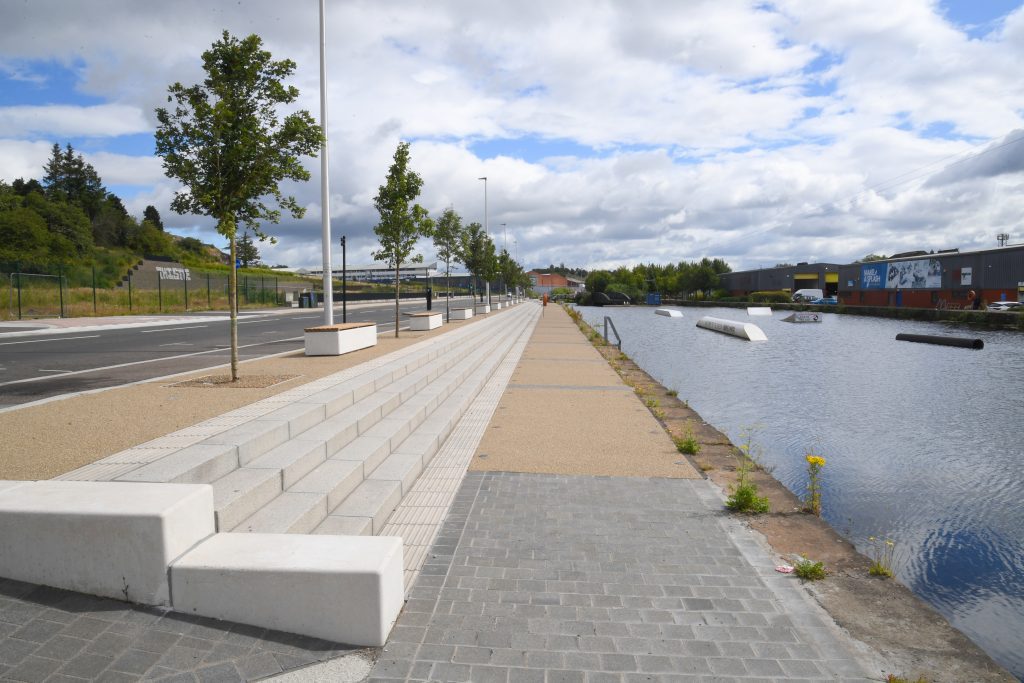 September 28, 2022