Glasgow City Region has been announced as one of two new Investment Zones in Scotland following a joint selection process by the UK and Scottish Governments.
The two Investment Zones, in Glasgow City Region and the North East, will each be supported by up to £80 million in targeted investment, tax reliefs and other incentives over five years
Councillor Susan Aitken, Leader of Glasgow City Council and Chair of the Glasgow City Region Cabinet said:
"Glasgow has a proven and long-standing track record in successfully delivering on investment and today's announcement is an opportunity to build on that – for the benefit of our regional economy and the well-being and prosperity of our citizens.
"An international hub of investment and innovation, the success of Glasgow City Region is key to the success of the Scottish and UK economies. But we're also a region with the greatest need for public support to address deep-rooted inequalities.
"In the weeks and months ahead, we'll work with government to develop the detail around the City Region's Investment Zone to deliver on our ambitions for economic growth, inward investment, sustainability and a more inclusive and equitable economy."
Innovation and fair work will be at the heart of Scotland's first two Investment Zones, which aim to boost the economy, stimulate business growth and create high-quality, well-paid jobs.
Secretary of State for Levelling Up, Michael Gove said:
"This is an historic milestone as we widen the opportunity and ambition of the Investment Zone programme to grow the economy across the whole of the United Kingdom.
"I am very appreciative of the constructive approach the First Minister and Deputy First Minister have shown in the meetings I have had with them in recent weeks. We all have a shared ambition to work together to see all parts of Scotland thrive and today's agreement builds on our successful rollout of Green Freeports in Scotland earlier this year.
"Both Aberdeen and Glasgow, and their surrounding areas, have been at the very heart of the UK's economic success for generations. Shipbuilding on the Clyde. Oil and gas exploration in the North Sea and a leader in the renewable sector. Both responsible for exporting some of the world's finest food and drink around the globe. Both playing home to some of the biggest financial service companies we have. We want to build on this proud present and past so that Aberdeen and Glasgow continue to make a massive contribution to the UK economy."
Scottish Government Wellbeing Economy Secretary Neil Gray said:
"This is a milestone in the delivery of Investment Zones in a way that enhances Scotland's economy while aligning with our distinctive priorities.
"Scotland already has a strong track record in innovation and research and the Investment Zones can build on these strengths. They will form part of a joined up approach that draws on the expertise of our world-leading research, education and training institutions, dynamic business sector and skilled workforce and will enable local communities to benefit.
"A rigorous process has been followed in selecting Glasgow City Region and the North East and we look forward to working in partnership with them to create high quality jobs and ensure that fair work practices, including payment of the real Living Wage, are embedded in the Investment Zones from the outset.
"We will, of course, continue to invest in all of Scotland's regions, for instance through Growth and City Region deals, to build on their strengths and stimulate jobs and growth."
The Scottish and UK governments have an equal role in decision-making and overseeing delivery.
Glasgow City Region and North East of Scotland were selected jointly by the UK Government and Scottish Government based on their research strengths, an assessment of economic need and potential, and a consideration of geographic spread.
The initiative is to be delivered by each area's Regional Economic Partnership. Regional leaders, businesses and universities will take the lead in shaping regional plans, and discussions will now begin with both regions with government to develop detailed proposals.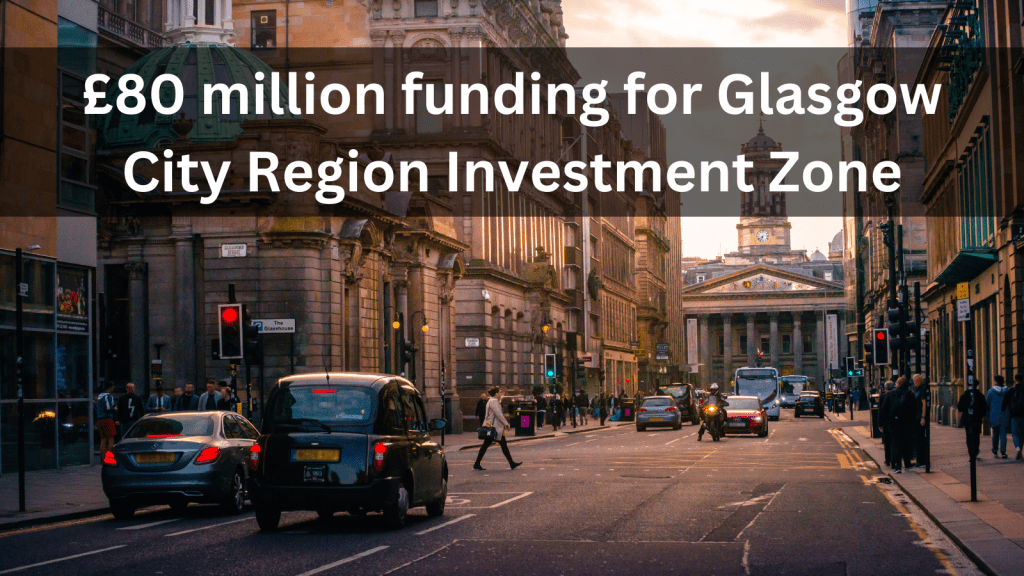 June 30, 2023